Fantastic Sams & mobilefYre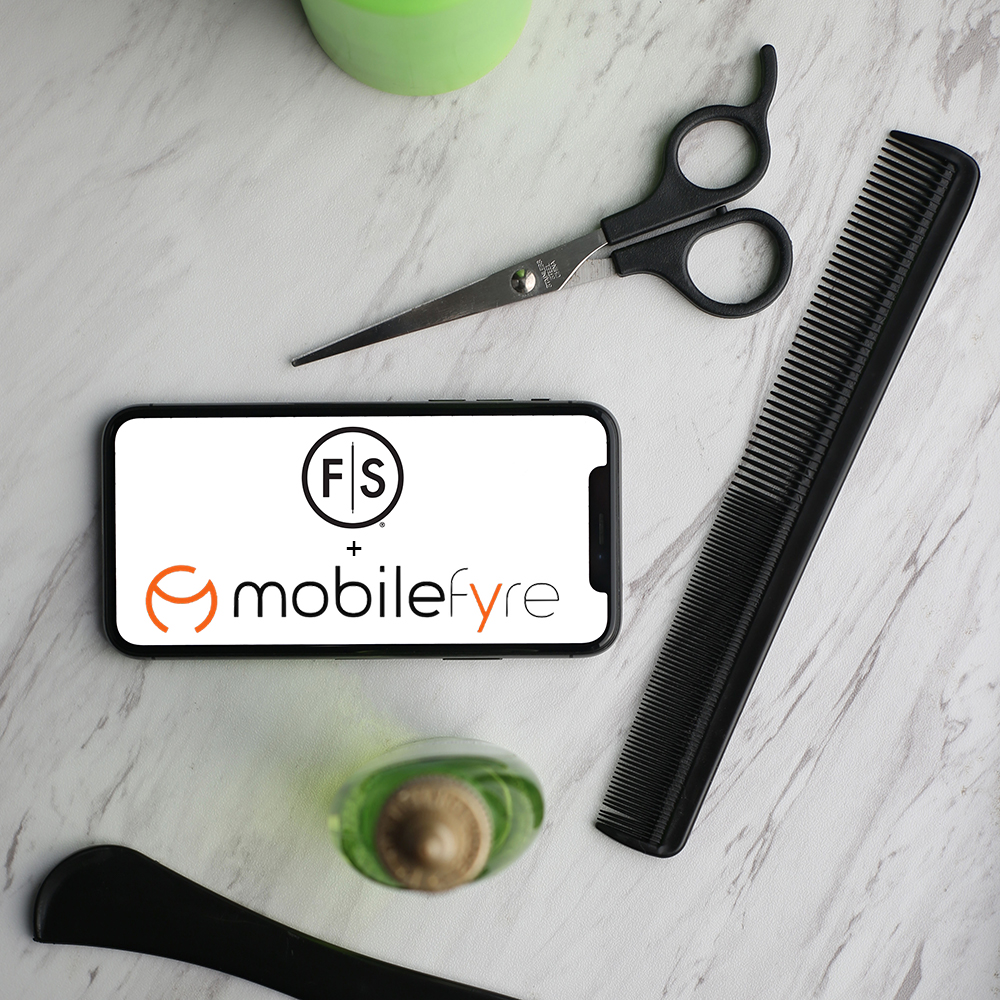 On Demand Marketing
Drive Guest Count When Your Salon is Slow
You'll send a text blast to all your Subscribers whenever you choose and they will be waiting to receive them! Text Marketing beats all other advertising mediums in response rate for 2 main reasons:
Consumers register in advance to receive your ads, they "opt in".

Everyone reads them. 98% of text ads get opened by recipient.
95% of text ads get read within 15 minutes of being sent! This means you have a way to reach people immediately and drive guest count on demand.
Now if business is slow on a Monday morning, you can do something about it by Monday afternoon!
This is a piece of technology that automates a chaotic series of events in the salon that needs to be effective and efficient and a positive experience for your clients.
-Richard Bowles: Owner
Online Review Enhancement
Dramatically increase both your number of reviews and your star rating!
We identify your best guests, and send them a text, with a link, Positive 4 & 5 star reviews get sent on to Google, Facebook, Yelp and more while negative reviews do not. Of course, all reviews get sent to you as they occur.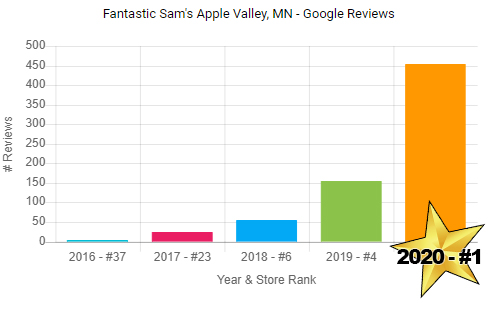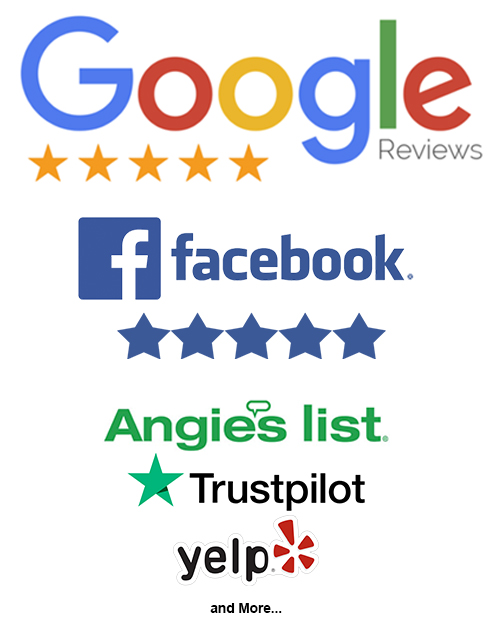 Reviews are a huge part of our success. Before using mobilfYre, we had 4 reviews…all bad. Now we're going on 500 reviews and have a 4.7 star rating!
-David Zoz: Owner of 7 Salons
Including Apple Valley, MN, the #1 Store in the Country
Marketing While You Sleep
HAIRCUT REMINDER TEXT
sent 3 – 4 weeks after last cut
REVIEW REQUEST TEXT
sent after each cut
BIRTHDAY CLUB
sent on their birthday
INACTIVE GUEST TEXT
sent when you haven't seen a guest in a while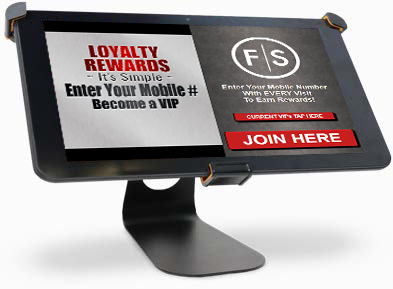 The Heart of Our System is the Loyalty Kiosk
The first time your guest puts their cell number in the kiosk two things happen:
They join your loyalty program
They register (opt in) to receive text ads
Mobile Rewards
The Digital Punch Card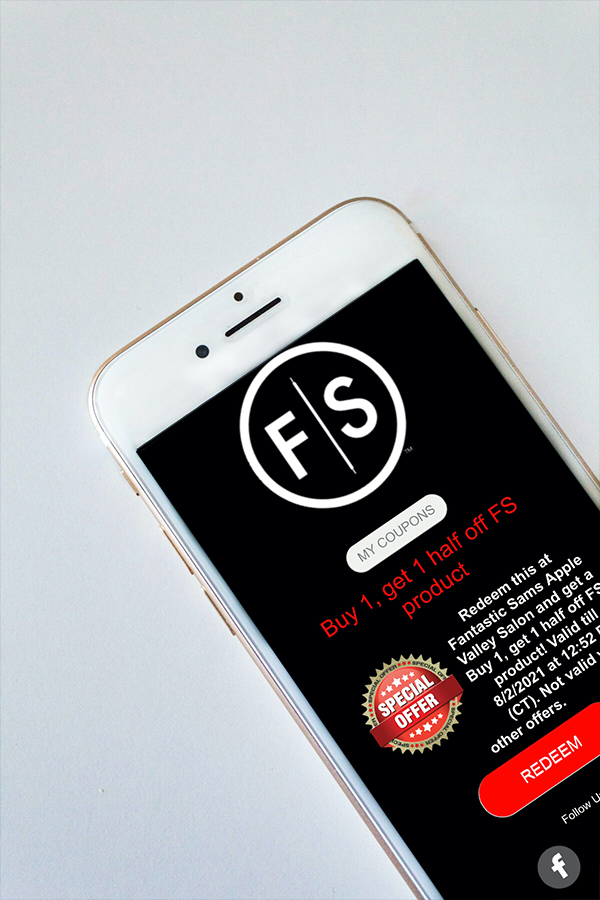 With our loyalty program, you design it to fit your business. Guests simply enter their phone number into your kiosk/tablet each time they visit. Think of it as an electronic punch card…except they don't need the card, all they need is their phone number. It's an easy way to reward your loyal guests and turn occasional guests into REGULAR GUESTS, and bring them in more often.
Digital Punch Cards – Eliminate Waste

Use your Digital Punch Cards to get new guests
Digital Coupons
Guests Love the Paper Free Convenience
Send interactive coupons via text message with barcode POS integration. Coupons are completely customizable for your business and not only make a great visual impression but are also hugely effective in driving guest count.
Coupons can include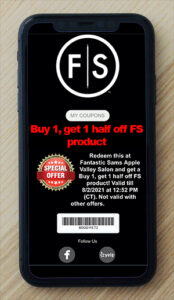 Coupons are fully trackable in terms of how many are sent, opened and redeemed.
Social Media Sharing
Constantly Increase Page Views and Likes
Guests are sent a link encouraging them to join your Facebook (or other) page and your digital coupons can be easily shared with friends via social media.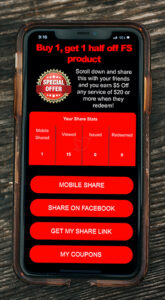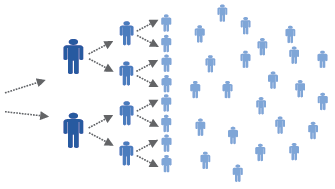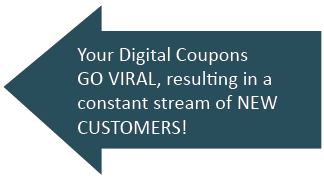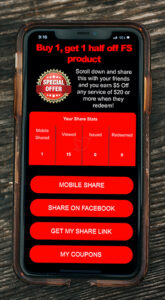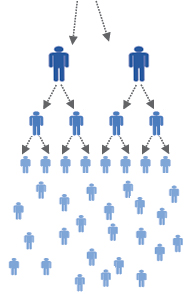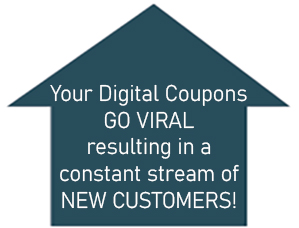 Referral Rewards Program
Turn your guests into salespeople
Guests are encouraged and incented to share your digital coupons with friends and family and then they are rewarded for their successful efforts.
Ask About our Additional Staff Focused Services
Developed Specifically for Fantastic Sams
FS Phone Manager – aka "The Staff Saver"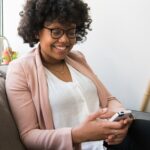 Too Many calls? Let our system manage that for you.
When a guest calls in they are met with a custom Fantastic Sams voice prompt asking if they need things like:
To make an appointment – Press 1
Hours or directions – Press 2
To speak with a specific person – Press 3
When they select "make an appointment", they immediately receive a text with a link to your
reservation system.
Your phones don't even have to ring. Select "Silent Mode" and all calls will be handled automatically and personal messages sent to voice mail.
Give it a try. Call 555-555-5555 from your cellphone now!
Stylist Digital Card & Coupon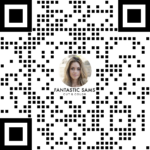 Empower your Stylists to bring in more guests!
Stylists can share their individual contact info and coupons with potential guests. Excite and incent your staff and acknowledge your most dedicated stylists.
How does it work? Each stylist gets their own personal QR Code which they can save to their phone and print on cards. Each time a potential guest scans the QR Code, they immediately receive a digital coupon, incenting them to make an appointment soon.
QR Codes are fully trackable and can include all contact info (store and stylist), coupons, and even a picture of the stylist!